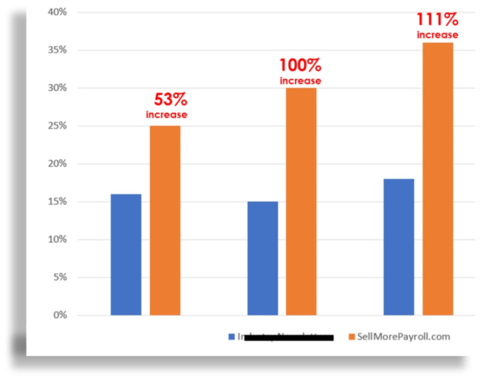 9 Ways To Boost Your
Payroll Service's e-Mail Open Rates
By Glenn Fallavollita, President of SellMorePayroll.com
Word Count:

245

Read Time:

60 Seconds
Are you looking for ways to generate higher open/click-through rates with your e-mail marketing campaigns? If you are, here are several tips to consider.
#1: Segment Your Databases: Send the same e-mail campaign to each group on file, i.e., clients, prospects, and referral partners.
#2: Update Your Databases: Remove any e-mail addresses that haven't opened a campaign in 24-months.
#3: Add New e-Mail Addresses: Adding new e-mail addresses is a key to your success.
#4: Send More Than A Newsletter: Sending just a newsletter once/twice a month will put your subscribers to sleep. Therefore, I recommend sending a variety to your databases.
#5: Personalize Your e-Mails: Use a service that allows you to customize a campaign (see below):
#6: Avoid Writing A Wall Of Text: Since your target audience spends 4 - 6 hours a day managing their inbox, they scan your copy instead of reading. Therefore, use headlines, sub-headlines, and bullet points to convey a message.
#7: Use Engaging Subject Lines: People skim their inboxes for engaging subject lines; therefore, use the following techniques in your subject line:
Start with "How To" or a "#."
Ask a question.
Show "time or quantity" shortage/savings.
#8:Send A "Reminder" e-Mail To Anyone Who Didn't Open Your Initial Campaign: Use a service that automatically sends a follow-up reminder to anyone who didn't open the initial campaign.
#9: Write Better Headlines: Your headline is the introduction to a topic. Remember, you have .5 to 1.0 seconds to capture someone's attention.
About The Author:
Glenn Fallavollita is a nationally recognized keynote speaker providing money-making advice to help payroll service owners, sales pros, and marketing gurus build more profitable relationships with their database of prospects, referral partners, and clients.
Additionally, Glenn is the president of SellMorePayroll.com and Drip Marketing, Inc. and has written 50+ whitepapers and three sales/self-marketing books, Supercharge Your Payroll Sales NOW!, Stop Whining AND Start Selling, and Drip Marketing: A Powerful New Marketing Strategy That Gets Prospects To Buy From You. He also writes blogs for LinkedIn and other national websites.
© Drip Marketing, Inc. All Rights Reserved May Not Be Used Without Written Permission.